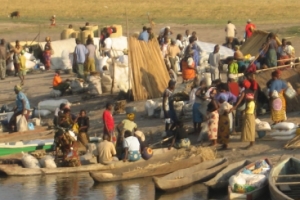 November is a busy month for the Zambezi Watercourse Commission (ZAMCOM) Secretariat: three meetings have been lined up – these are the extra-ordinary ZAMCOM Technical Committee (ZAMTEC) meeting, a meeting between ZAMTEC and International Cooperating Partners (ICPs), and a meeting for the Zambezi ICPs (ZICPs).
The extraordinary ZAMTEC meeting is scheduled for 16th November. The meeting is expected to, among other things consider ZAMCOM's 2018/19 Work Plan and Budget as well as get a briefing on progress regarding ongoing major ZAMCOM activities including development of the Strategic Plan for the Zambezi Watercourse (ZSP) and enhancement of the Zambezi Water Resources Information System (ZAMWIS) Decision Support Systems (DSS).
ZAMTEC is one of the ZAMCOM governing organs whose mandate is implementing policies and decisions of the ZAMCOM Council of Minister – the decision making arm of ZAMCOM.
The main objective for the ZAMTEC-ICP meeting is to create an environment where the ZAMCOM decision makers jointly reflect on the organisation's progress with donors as well as share experiences and ideas on important issues in the spirit of partnership.
The ZICP meeting is an annual meeting between ZAMCOM represented by the Secretariat and the ICPS. During this meeting, ZAMCOM shares the organisation's Work Plan with ICPs with the aim of achieving a shared understanding of the status and way forward.
Issues around resource mobilization, coordination, harmonization and synergy among the ICPs in supporting ZAMCOM, are also discussed during these meetings. The ZICP partnership was established to improve aid effectiveness and harmonization of support to ZAMCOM.
ZAMCOM's cooperating partners include the Danish Government through its Ministry of Foreign Affairs International Development Cooperation (DANIDA), the German Federal Government through GIZ, and the World Bank.