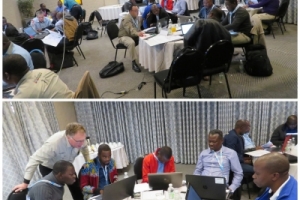 The first ZAMWIS Decision Support System (DSS) training was successfully held from the 11th to 16th June 2018 in Harare, Zimbabwe. The overall objective of the training workshop was to make sure that ZAMSEC and the National Focal Institutions in the Riparian States will be in a position to apply the MIKE Hydro Basin model to inform other stakeholders in the Riparian States about planned water resources developments in the Zambezi Basin.
Among the many activities that the trainees undertook, they had the opportunity to utilise water balance models in the water resources planning process as well as the use of the MIKE Hydro Basin model, specifically the components relating to: Model setup, Working with different features, including water users, irrigation, hydropower and reservoirs, Rainfall-runoff modelling and Operational Rules and Water Allocation. In addition, the participants were introduced to the Planning Tool, its functionalities and the present state of the development.
31 participants from the 8 Riparirian States including Zambezi River  Authority (ZRA) and Hidroeléctrica de Cahora Bassa (HCB) attended.