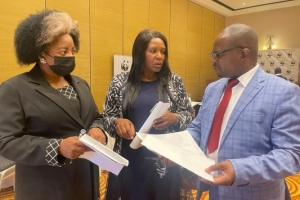 Zambia has commended the Kwando/Cuando River Basin Riparian States for successfully completing the "Transboundary Governance of the Kwando/Cuando River Basin: Protecting the Heart of Southern Africa" project. The Riparian States are the Republics of Angola, Botswana, Namibia and Zambia.
The highlight of completion of the project was the launch of two publications – Kwando/Cuando State of the River Basin and the Kwando/Cuando River Basin Health Report Card at a colourful ceremony held on 3 June, 2022 in Livingstone, Zambia.
Zambia's Acting Permanent Secretary in the Ministry of Water Development and Sanitation Mr. Lewis Mwansa officially launched the reports.
In his launching remarks, the Acting PS noted that the Kwando/Cuando is a critical headwater basin for both the KAZA and the entire Zambezi Watercourse.
"The resultant key message to all the eight Zambezi Watercourse Riparian States is that 'Coming together is a beginning; keeping together is progress; and working together is success'," he said, quoting Henry Ford the founder of Ford Motor Company.
A collaboration between the Zambezi Watercourse Commission, World Wide Fund for Nature (WWF) Zambia, Kavango-Zambezi Transfrontier Conservation Area (KAZA) and the four Kwando/Cuando River Basin Riparian States, the project's main objective was to strengthen the transboundary dialogue, cooperation, planning, management, and governance of water resources in the Kwando/Cuando River Basin in Southern Africa to reduce any potential for conflict among the Riparian States.
"A key lesson for all Zambezi Watercourse stakeholders is that partnerships are an imperative to successful delivery of quality results as they bring together, among others, much needed skills, resources and requisite information which also inform quality decision making.
"I therefore commend the ZAMCOM-KAZA-WWF partnership in driving the Kwando/Cuando River Basin project endeavour to a successful conclusion." 
He noted that the Kwando/Cuando River Basin Project lessons, experiences and outputs will be up-scaled to the Watercourse's regional stakeholder driven planned activities that are currently underway towards implementation of the Strategic Plan for the Zambezi Watercourse (ZSP) through the Programme for Integrated Development and Adaptation to Climate Change in the Zambezi Watercourse (PIDACC Zambezi).
The Acting PS acknowledged and thanked the United States Agency for International Development (USAID) and The United States Department of State (USDOS) for financial support to the Kwando/Cuando River Basin Project whose outputs, he said, will result in benefits that are anticipated to go beyond enhancing transboundary dialogue and cooperation by uplifting the socio-economic welfare of Watercourse citizens and protection of the environment.