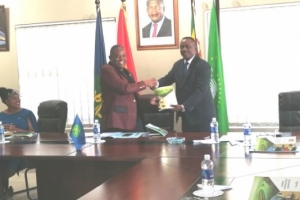 ZAMCOM Executive Secretary, Felix M. Ngamlagosi has now moved to Harare to take up his position as the Head of the Institution. Ngamlagosi was appointed Executive Secretary effective from 1 March, 2022.
Among his first tasks, has been paying courtesy calls to all Embassies of the Riparian States in the Republic of Zimbabwe to introduce himself as well as tell them more about ZAMCOM.
Today, Friday 29th July 2022, Ngamlagosi had the honour to meet and address Heads of Mission from SADC countries in Zimbabwe.
In his address to the SADC Ambassadors, he pledged ZAMCOM's commitment to working with them in achieving SADC and ZAMCOM aspirations of regional integration and cooperation in the development and management of water and other natural resources in both the region and Zambezi Watercourse.
"As an organisation that was established by the 8 Riparian States who are all SADC members, ZAMCOM looks forward to working with the Heads of Mission from those States in promoting equitable and sustainable utilisation of water resources, regional integration, and economic benefit for present and future generations," he said in his remarks.