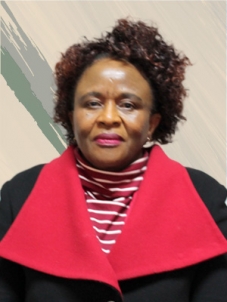 Finance, Administration and Human Resources
Majohn holds a Master's degree in Business Administration and a Bachelor of Accountancy both from University of Botswana. She is also a holder of a Certificate in Accountancy and Business Studies as well as a Diploma in Accountancy and Business Studies from Botswana Institute of Administration and Commerce. Her Accountancy career dates back to 1985 when she joined the National Development Bank in Gaborone, Botswana. She joined the NGO world in 1992 and has been working for local and international NGOs ever since. She joined the water sector in 2012 when she joined the Interim ZAMCOM Secretariat in Botswana before joining the permanent Secretariat in Harare.
She is currently a part –time student of Association of Chartered Certified Accountants (ACCA).
Majohn is an upcoming farmer back in her home country, Botswana and she enjoys collecting various plant species and growing them on her piece of land.